2 WEEKS (4 Days)
SUNDAY & MONDAY | 10AM – 5PM
DATES:
July 17, 2022 – July 25, 2022
---
INSTRUCTOR PROFILE: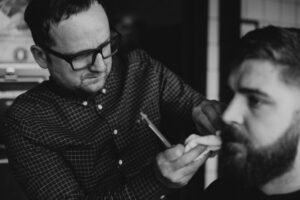 John Radu is a barber and master stylist by day and a DJ by night. He has dedicated over 20 years in the beauty industry as a stylist, barber, educator, platform artist and entrepreneur. As a 1997 graduate from the Hairstyling program at the Calgary campus, he is the owner and visionary behind Cannibale Barbershop; the first barbershop/lounge concept in Calgary.
---
WHAT YOU'LL LEARN:
This program is for Journeyman Hairstylists or Graduates from a recognized Hairstyling program who wish to expand their skills and grow their clientele in the Men's Grooming market. In this four day course (32 hours), participants will learn an array of trending men's haircuts and the techniques required to create them.
Clipper Cutting
Low, high and bald fades are the focus of today's current trend barbering. Detailing with hard parts and hair tattooing make current fashion headlines.
Scissor Cuts
Scissor looks create texture and length differences in today's men's designs. Scissor -over-comb techniques are taught as an alternative to electric clipper cutting. Styling, shaping and forming combined with professional product use are the recipe to create today's men's looks.
Shaving
Wet shaving is an art form that has rapidly come back into fashion and is an increasingly important skill. Participants will learn the art of the wet shave.
---
WHAT YOU'LL GET:
Barbering Certificate
---
COST:
Tuition: $1000.00
Kit: $299.25 (Includes GST)
TOTAL: $1299.25
KIT LIST
1 Ian Mannequin
1 straight razor
3 American Crew Products
– Forming Cream
– Protective Shave Foam
– 2-in-1 Moisturizer & Beard Conditioner
NOTE: *A non-refundable $100 deposit is required to secure your spot in the program, which is deducted from tuition costs. The cost of the kit is non-refundable upon commencement of the program.
*You will be required to provide models during this course.
*Participants are required to provide and use their own professional tools for this program. A list of required supplies will be provided upon registration.
*This class is for Journeyman Hairstylists or Graduates from a recognized Hairstyling program
---
FOR MORE INFO, PLEASE CONTACT:
Sierra Tanton, Enrolment Coordinator
403 290 6993
Calgary Campus Info
1023-7th Avenue S.W. Calgary, AB T2P 1A8
Call now to book:
(403) 290-0051